Learn About the Taconic Pipe Band..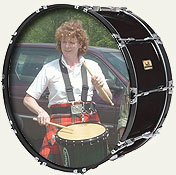 What We Do..
The band's weekly practices held throughout the year and extensive individual efforts help prepare us for our season of performances, including parades, graduation exercises, weddings, memorial services, concerts and religious services, Supplying full or mini-bands or solo pipers and drummers to occasions at any time of the year, the Taconic Pipe Band can add a special touch to help make any event a memorable one.
The Taconic Pipe Band is a member in good standing of the
Eastern United States Pipe Band Association
, in which it competes with bands from many parts of the Eastern United States and Canada. Preparation for such competition helps the band and its members maintain the skills necessary for artistic presentation of Scottish pipe band music. The fees charged by the band go toward uniforms, instruments, travel, and professional instruction needed to keep individual skills sharp.

Click Here to Book The Taconic Pipe Band.

Click Here to View Our Current Music Selections.